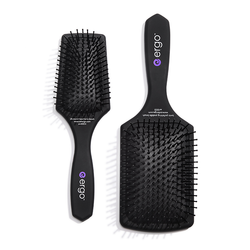 About
Size
Returns
Warranty
Grab one for home and one for life on the go! Never experience a dull, frizzy or tangled blowout again with our revolutionary professional paddle brushes. Specially designed for medium to coarse hair types. The Paddle Brush Collection includes: ER1000 + ER500 paddle brushes.
ER500 :
Width = 2.4 IN
Height = 1.38 IN
Length = 8.38 IN
ER1000 :
Width = 3.19 IN
Height = 1.52 IN
Length = 9.63 IN
All ERGO Styling Tools come with a 30 day no questions asked return policy. You have 30 days from when you received the item to make a return. Returns will be exclusive to cost of goods at time of purchase. Original shipping costs and package protection are not eligible for a refund. All returns must be initiated within the 30 day time frame. Want to start a return? CLICK HERE
ERGO Research Inc. thanks you for your purchase. We guarantee that your brush has been handmade from ERGO Research Inc. and is free from defects in materials and workmanship. Each ERGO brush is guaranteed for 1 year from the purchase date. ERGO will replace any brush should it fail under normal use within the 1st year purchase time frame.
WARRANTY VOID IF:
ERGO does not offer its warranty on any product purchased anywhere other than an authorized salon, authorized web reseller, or advanced academy.

When shipping the brushes, it is highly recommended that you use a trackable and insured shipping method such as UPS, FedEx or USPS Priority Mail.

Do not forget to include your daytime phone number and e-mail address with your return shipping information so that you may be contacted in the event that there are any questions and to ensure your return shipment is not delayed.

WARRANTY SERVICE:
Brushes must include proof of Date of Purchase to receive warranty service. To obtain warranty service, please send proof of purchase (copy of purchase receipt) along with $5.00 (per brush) U.S. check or money order made payable to ERGO Research along with the brush and mail to:

ERGO Styling Tools
Brush Warranty Service
28069 Smyth Dr.
Valencia CA, 91355